Unlock the Profit Potential: Resell SIP Trunk Solutions and Amplify Your Revenue
Introduction to SIP Trunking and Its Growing Market
The digital revolution continues to transform the global business landscape, and communication is one of its most-impacted facets. This shift in communication methods has led to the rise of SIP trunking, a game-changing technology that enables efficient and cost-effective communication for businesses. As a telecom agent, IT consultant, or a dealer looking to expand your portfolio, reselling SIP trunking services can be a lucrative opportunity to boost your revenue while meeting your clients' modern communication needs.
SIP trunking, or Session Initiation Protocol trunking, revolutionizes how businesses communicate, replacing traditional phone lines with digital or virtual ones. It facilitates the connection and disconnection of communication sessions, such as calls, between two or more parties using VoIP (Voice Over Internet Protocol) to send call data over an internet connection. The growing preference for SIP trunking over conventional telephony systems is evident in the market data. By the end of 2020, the North American SIP trunking market was valued at US$3,955.9 million, and the global market value was approximately US$10.6 billion.
This rapid adoption of SIP trunking services is not slowing down, with a projected annual growth rate of 13% between 2020 and 2030. Moreover, the SIP trunking market is expected to reach a staggering value of $43.28 billion by 2031. This growth is propelled, in part, by the increasing migration from traditional ISDN (Integrated Services Digital Network) to cloud-based SIP trunking services.
Whether you're an experienced telecom professional or new to the communications industry, there's never been a better time to tap into the profit potential of the booming SIP trunking market. Reselling SIP trunk services helps fulfill businesses' modernization demands, offering you a new and lucrative source of income. The following sections will provide a deeper understanding of SIP trunking, its benefits to your clients, and how you can successfully resell these services.
Understanding SIP Trunking: What It Is and How It Works
Imagine a bridge that seamlessly connects your clients' businesses to the rest of the world. That's exactly what SIP trunking does. As a reseller of SIP trunk solutions, it's crucial to understand the nuts and bolts of this technology.
SIP stands for Session Initiation Protocol, a signaling protocol used for initiating, maintaining, modifying, and terminating real-time sessions of communication. This includes voice, video, messaging, and other communication applications and services between two or more endpoints on IP networks. Originally developed and approved by the Internet Engineering Task Force (IETF) in 1996, SIP meets the evolving needs of IP-based communications.
SIP trunking takes this a step further. A SIP trunk acts as a virtual phone line that enables businesses to make and receive Internet-based calls to any phone number, be it via Voice over Internet Protocol (VoIP) or Public Switched Telephone Network (PSTN).
These SIP trunks are like pathways that transmit digital data packets (voice, video, and other data) from one point to another. Each trunk can be divided into an unlimited number of SIP channels, also known as sessions, lines, or concurrent calls. This means each trunk can support one outgoing or incoming call at a time, but the number of trunks can be increased as per the business's needs.
It's essential to note that SIP is different from VoIP. While SIP is the protocol that facilitates the connection and disconnection of communication sessions, VoIP is the technology used to send analog call data over an Internet connection. In other words, SIP calls use VoIP to transmit the data.
As a reseller, your role is to help businesses transition from traditional phone lines to SIP trunking. This modern technology not only expands their connection capabilities but also results in significant financial savings, effectively replacing the old and outdated PSTN.
In a world where communication is king, understanding SIP trunking and how it works is the key to unlocking the door to a world of scalable, efficient, and cost-effective communication solutions. This, in turn, translates to amplified revenue for you as a reseller.
The Profit Potential of Reselling SIP Trunking
There's a gold rush happening in the digital age, and the gold is SIP trunking. As businesses scramble to upgrade their communication systems, the SIP trunking market is expanding at an unprecedented rate. This rapid growth, combined with the future potential of SIP trunking, offers a lucrative opportunity for savvy entrepreneurs looking to cash in on the digital communication revolution. Let's explore the profit potential of reselling SIP trunking.
The Rapid Growth of the SIP Trunking Market
The SIP trunking market isn't just growing—it's skyrocketing. By the end of 2020, the SIP trunking market in North America was valued at US$ 3,955.9 million. Globally, SIP trunking services are expected to grow by 13% annually between 2020 and 2030. This rapid growth is fueled by the shift away from traditional telephony to more flexible and cost-effective digital communication solutions.
In essence, SIP trunking is a hot commodity in the digital age. By reselling SIP trunking services, you're positioning yourself at the forefront of a rapidly evolving industry. This provides a unique opportunity to ride the wave of growth and unlock significant profit potential.
The Future of SIP Trunking: A Market Worth $43.74 Billion by 2031
But the impressive growth of the SIP trunking market is just the tip of the iceberg when it comes to its profit potential. The future of SIP trunking is even more promising. By 2031, the SIP trunking market is expected to reach a staggering $43.74 billion. This is primarily driven by the global telecom industry's goal to fully transition away from the traditional Public Switched Telephone Network (PSTN) by 2031.
The future of SIP trunking looks bright, and as a reseller, you're in a prime position to leverage this growth. By adding SIP trunking to your portfolio of digital products, you're not just investing in a current trend—you're investing in the future of communication.
The profit potential of reselling SIP trunking is significant. The market is growing rapidly, and the future looks even more promising. By becoming a SIP trunk reseller, you're placing yourself at the forefront of a digital revolution, ready to reap the rewards of this booming industry.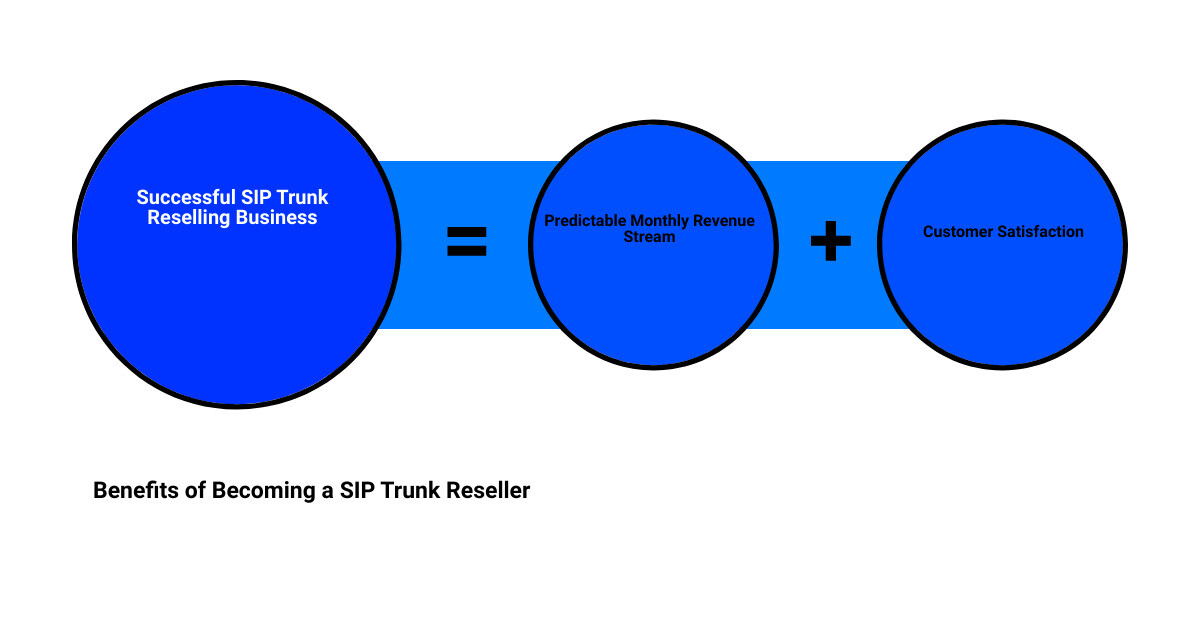 The Benefits of Becoming a SIP Trunk Reseller
As an entrepreneur, you always look for opportunities to scale your business and boost profits. Becoming a SIP trunk reseller can be an attractive way to achieve that.
Predictable Monthly Revenue Stream
When you resell SIP trunks, you can create a business model based on recurring monthly fees that grow over time. Unlike businesses founded on equipment sales, which often experience periods of feast and famine, SIP trunk reselling offers a more stable and predictable revenue stream. The SIP trunk reseller programs offer monthly commissions for each customer as long as they subscribe to the service. There's little incremental cost or effort in adding a new client, allowing you to grow your business and income over time while maintaining a good understanding of what to expect from one month to the next.
Customer Satisfaction with Cost Savings and Unified Communications
Customer satisfaction is at the heart of every successful business. When you become a SIP trunk reseller, you can offer your clients significant benefits. Your customers will appreciate the cost savings and other advantages of SIP trunking. For instance, SIP trunking allows businesses to make free calls between offices and extensions, and there are no rental costs for additional lines. This results in immediate cost savings and a more simplified, predictable billing structure. Furthermore, SIP trunking allows for consolidated and unified services, providing a backbone for communications over a data network instead of a traditional voice network. This streamlines workflows, increases productivity, and makes conversations with customers and business partners easier to track and manage.
Bonus Income Opportunities through Value-Added Services
The best SIP trunk reseller programs also offer value-added features and services that you can sell to increase the profitability of every account. In addition to SIP trunking, you can offer inbound toll-free service, international long-distance, Direct Inward Dial (DID) numbers, Fax over IP, FAX to email, and e911. These additional services enhance your clients' communication capabilities and help you generate bonus income, further amplifying your revenue.
Becoming a SIP trunk reseller opens up a world of opportunities. From a predictable monthly revenue stream to customer satisfaction and bonus income opportunities, the benefits are compelling. SIP trunk reselling puts you at the forefront of the digital communication revolution while offering substantial financial rewards.
Choosing the Right SIP Trunking Partner: The Importance of SIPTRUNK
Aligning yourself with the right reselling partner is paramount. The quality of your SIP trunking partner not only affects your reputation but also determines your success in the reselling business. Among the sea of providers, SIPTRUNK emerges as a reliable and high-quality provider, consistently offering outstanding products and customer service. But what exactly sets SIPTRUNK apart?
What Makes SIPTRUNK Different
SIPTRUNK has a proven track record of providing an intuitive and user-friendly platform that you and your customers can easily manage. In contrast to third-party Tier-2 or Tier-3 companies, SIPTRUNK operates as a Tier-1 communication network, directly connecting to the internet. This results in crystal-clear audio and video transmission, minimal latency, and unparalleled uptime. Moreover, their services are compatible with all major IP PBX, IP gateways, and open-source PBX projects, ensuring seamless integration with your clients' systems.
Beyond the top-notch software and network quality, SIPTRUNK offers a simplified and automated billing system, significantly reducing your overhead and offering a smoother experience for your customers.
The Advantages of SIPTRUNK's Reseller Program
The SIPTRUNK reseller program is designed to accelerate your path to revenue with no upfront costs or contracts. Unlike other programs, SIPTRUNK works with you as a partner, providing transparent and seamless commission structures. You'll see an instant profit after your first sale and won't lose any money if sales don't come as quickly as anticipated.
Moreover, SIPTRUNK offers 24/7 support, ensuring you have a team of professionals ready to assist you in closing deals, helping your customers, and providing you with all the support you need. With SIPTRUNK, you don't have to be an expert on the technical aspects of SIP trunking. You can focus on selling the benefits and value of SIP trunking to your customers and leave the logistics to the experts at SIPTRUNK.
Testimonials and Success Stories from SIPTRUNK Resellers
SIPTRUNK's success is echoed in its resellers' testimonials and success stories. Countless resellers have praised the robust and easy-to-use platform, exceptional customer service, and the competitive edge they have gained by partnering with SIPTRUNK. These resellers have successfully grown their businesses, expanded their customer base, and amplified their revenue by offering SIPTRUNK's top-tier services.
Partnering with SIPTRUNK is more than just a business decision; it's a strategic move towards success in the lucrative SIP trunk reselling market. With SIPTRUNK, the potential to unlock significant profits and amplify your revenue is within your reach.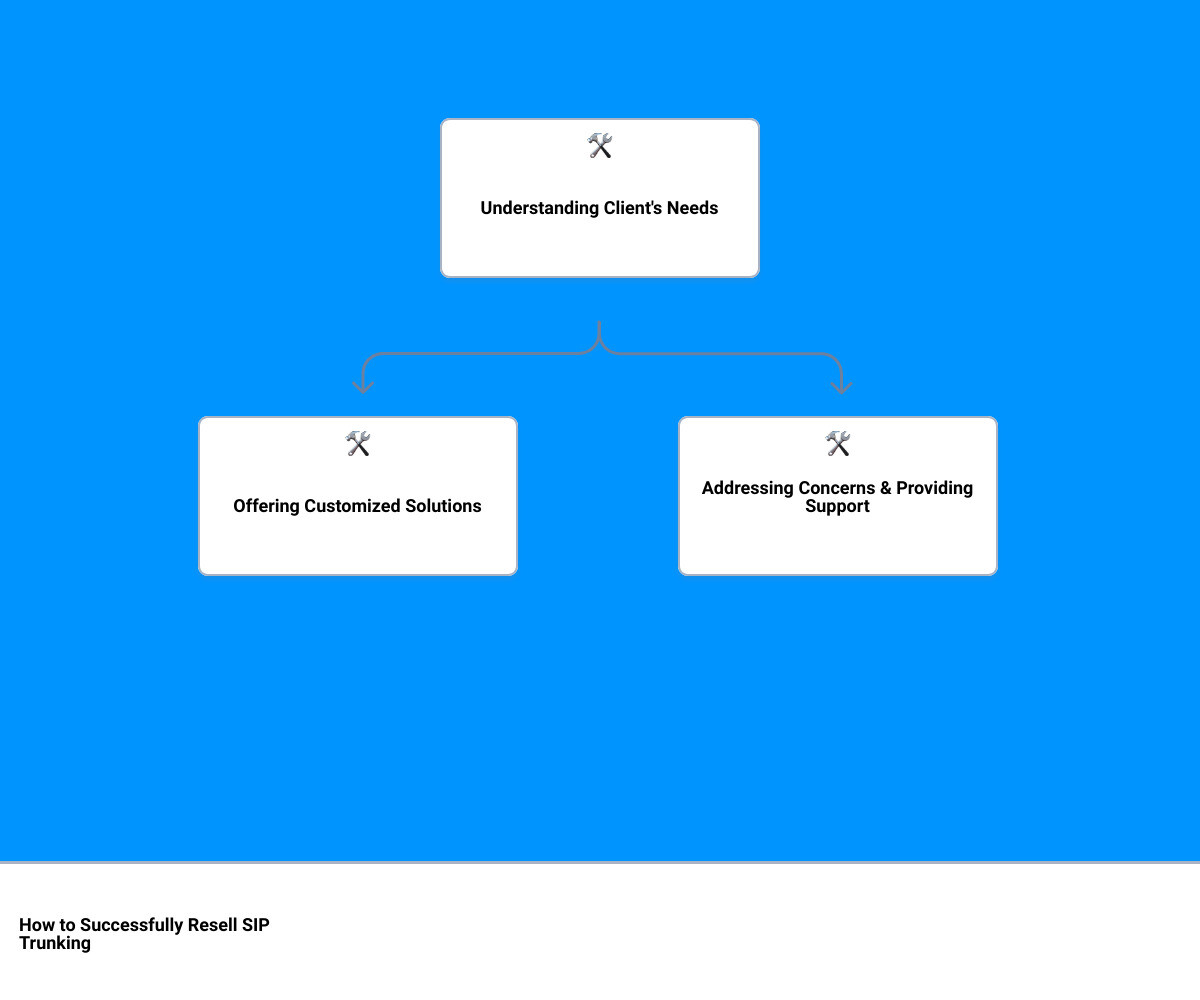 Amplify Your Revenue by Reselling SIP Trunking Solutions
Embrace the future of telecommunications and unlock the profit potential of reselling SIP trunking solutions. As a telecom agent, dealer, VAR, manufacturer, distributor, master agent, or IT consultant, you can transform your client's communication strategies while amplifying your revenue.
SIP trunking is not just a technology; it's a gateway to financial growth and customer satisfaction. Its market is predicted to be worth $43.74 billion by 2031, offering a rich landscape of opportunities for those who dare to venture into it. As a reseller, you can benefit from predictable monthly revenue streams, high levels of customer satisfaction due to cost savings and unified communications, and bonus income opportunities through value-added services.
Choosing the right partner is paramount to reap these benefits. SIPTRUNK stands out in the crowded market with its unique selling proposition and reseller program. You won't have to deal with contracts, upfront costs, or hardware as a partner. Instead, you'll get a state-of-the-art platform that lets you confidently sell services. Plus, you'll receive expert support, easy billing and taxes, and transparent commission reporting.
Remember, your success as a reseller depends on understanding your clients' communication challenges and needs. By demonstrating the tangible cost advantages of SIP trunking, addressing common concerns, and offering flexible, customized solutions, you can become the go-to solution provider for businesses ready to embrace this innovative technology.
Step into the future of telecommunications with SIPTRUNK and unlock your profit potential. Start reselling SIP trunking solutions today and amplify your revenue. The time is ripe to capitalize on this burgeoning market and carve out a niche as a reliable, customer-centric SIP trunk reseller. Your journey towards financial growth and customer satisfaction starts here. Get started now.