Key Steps to Thrive as a Successful SIP Reseller
In the evolving digital landscape, tipping your toe in the telecommunications industry could be your golden ticket to success. As entrepreneurs worldwide scramble to identify the next breakthrough digital product, one promising potential shines bright – Session Initiation Protocol (SIP) trunking. With the growing shift to cloud-based solutions, the demand for these digital streams for voice over IP (VoIP) communications is skyrocketing. Therefore, knowing how to be a successful SIP reseller could be your stepping stone to capitalize on this lucrative opportunity.
As businesses consider upgrading their traditional telephone systems in favor of flexible and more efficient communication solutions, SIP trunking emerges as a fast-growing trend. This transition does not merely signify a technology shift. It holds the promise to revolutionize the very fabric of business communication. As a SIP reseller, you are on the front lines of this shift, guiding companies through this digital transformation.
For those already operating in the IT or telecom integration sphere, reselling SIP trunks could present an attractive opportunity. But success in this role will not come by default; you must strategically navigate through the market forces, partner with a reliable provider, and master the basics of SIP trunking.
Let's begin to unravel the potential of thriving as a SIP reseller:
Understanding SIP Trunking: SIP trunking uses internet protocol (IP) to enable voice and video calls. It's an instrumental component of VoIP services, setting up real-time audio and video sessions. It's a smart and cost-effective upgrade from the traditional ways of telecommunication, making businesses future-ready.
Role of a SIP Reseller: A SIP reseller purchases SIP trunks from providers and resells them to businesses after branding and customizing according to customers' unique needs. The reseller can offer SIP trunking as a stand-alone service or bundle it with other services for customers. Successful SIP resellers require deep insights into market demands, partnership with a reliable SIP provider, and effective sales strategies.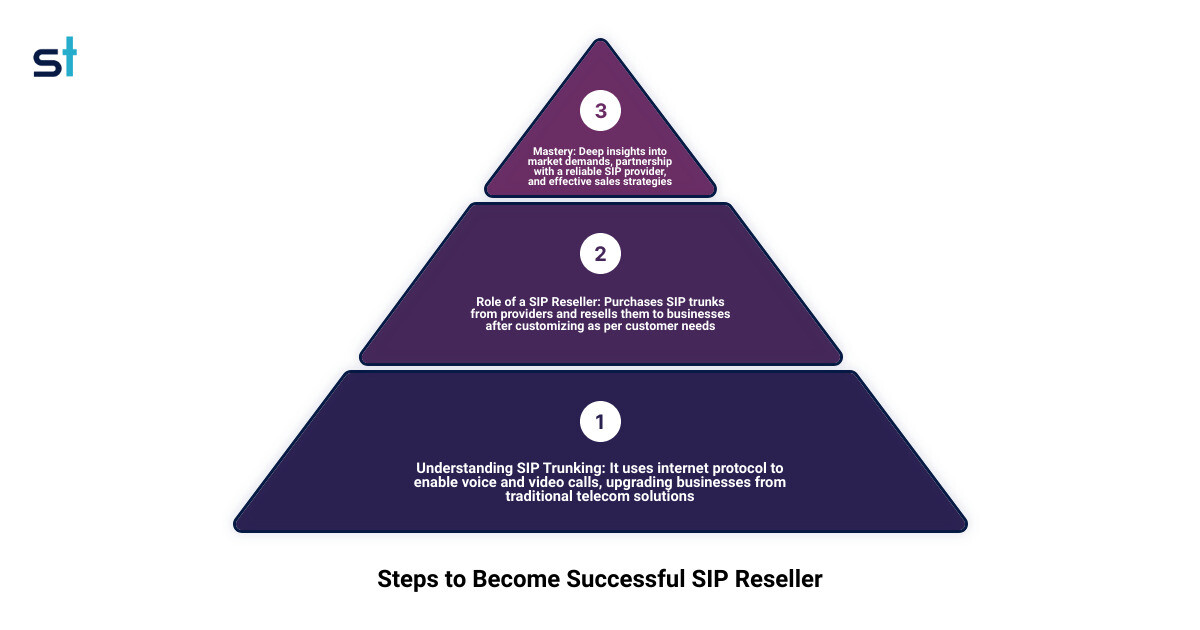 The infographic explains the steps to becoming a SIP reseller, the importance of partnering with a reliable SIP provider, and how to navigate the changing market dynamics. It will also highlight key benefits of SIP trunking that resellers can emphasize to prospective customers.
As we move forward, this guide will delve deeper into each of these aspects, preparing you to confidently step into your role as a prosperous SIP trunk reseller.
Understanding the Market
To thrive as a successful SIP trunk reseller, it's critical to have a deep understanding of the market. This includes identifying your target audience, analyzing the competition, and understanding the demand for SIP trunking.
Identifying Your Target Audience
Your target audience plays a crucial role in shaping your business strategy. As a SIP trunk reseller, your ideal clients will likely be businesses looking to upgrade their telephone systems, driven by a need for flexible communication options. This could include sectors such as government, banking, education, healthcare, retail, and manufacturing. Each of these sectors will have unique needs and pain points, so it's essential to conduct comprehensive market research to understand their requirements.
This could involve a deep dive into audience demographics and customer needs, or even conducting user journey research to understand how potential clients discover their need, evaluate potential solutions, and make a choice. Understanding their thought process can help you reach your audience at different phases of their journey, and tailor your offerings to their specific needs.
Analyzing the Competition
Competition in the SIP trunk reselling business is intense, and staying ahead requires a thorough understanding of your competitors. Consider using tools like social media to gather intel about your competitors' strategies. Note the type of content they post, the hashtags they use, and how they interact with their audience. This will not only help you understand their strategies but also generate ideas for differentiating your own offerings.
Understanding the Demand for SIP Trunking
SIP trunking is rapidly gaining popularity, and companies are increasingly transitioning from traditional PBX systems to digital infrastructure, creating a ripe opportunity for SIP trunk resellers. However, it's also important to note that traditional phone providers are phasing out their wired services. This could potentially lead to an increase in demand for SIP trunking services.
Understanding these market dynamics will allow you to position your offerings effectively and capitalize on the growing demand for SIP trunking services. As a SIP trunk reseller with SIPTRUNK, you can take advantage of our reliable white-label SIP trunking services to meet this demand and carve out a successful niche for yourself in the market.
In the next section, we'll delve into the importance of partnering with a reliable SIP provider and what to look for in a provider.
Partnering with a Good SIP Provider
Choosing the right SIP provider can make a significant difference in your journey to become a successful SIP reseller. Partnering with a reliable provider not only ensures top-tier service for your customers but also strengthens your business's overall performance.
The Importance of a Reliable Provider
When you step into the world of SIP trunk reselling, your success largely depends on the quality of your partner provider. A reliable and high-quality provider can cater to your business needs efficiently, enabling you to offer outstanding products and customer service. They provide a robust platform that you and your customers can manage without any difficulties, thus helping you maintain customer satisfaction.
Moreover, a reliable provider also offers cost-effective packages for resellers, ensuring that you can resell SIP trunking services at competitive prices. This is crucial because you wouldn't want your customers to purchase directly from your provider at a lower cost.
What to Look for in a SIP Provider
Choosing the ideal SIP provider requires careful consideration of several factors. Not all providers offer the same level of service or quality, so it's important to evaluate your options meticulously. Here are some key aspects to look for in a SIP provider:
Compatibility with Existing Platforms: The SIP trunking platform provided by your partner should be compatible with your current communication setup. This will allow you to upgrade your systems for SIP trunking capabilities without the need for significant hardware or software changes.
No Long-Term Contracts: A good provider won't bind you in long-term contracts or charge hefty initial costs. Instead, they'll allow you to pay for solutions as and when you need them, providing you greater flexibility and scalability.
Reliable Expert Support: If you find yourself in need of assistance, your provider should be able to provide expert support promptly. Look for a provider with a fully operational support center.
Handled Taxation and Billing: Choosing a provider that handles billing and taxation can save you from unnecessary complexities, allowing you to focus on providing top-tier service to your customers and growing your business.
Partnering with SIPTRUNK
At SIPTRUNK, we understand the challenges and opportunities that come with becoming a SIP reseller. That's why we offer a comprehensive suite of services and support to help you thrive as a successful SIP reseller.
Our platform is compatible with all major open-source PBX projects, IP gateways, and IP PBX systems, making it easy to integrate with your existing infrastructure. We do not require long-term contracts, and our expert support team is always ready to assist you. Moreover, we handle all taxation and billing aspects, so you can focus on what matters most – growing your business and serving your customers.
With SIPTRUNK, you can expect a clear and transparent commission structure, automated account setup, and service provisioning. Our processes and timelines for invoicing and payment are automated, allowing you to plan around billing and payment cycles effectively.
By partnering with SIPTRUNK, you will be able to offer your customers the best services available, thus maximizing your business's earning potential.
In the next section, we'll discuss the basic requirements for a SIP trunk and how to set them up with SIPTRUNK.
Selling and Reselling SIP Trunks
Selling and reselling SIP trunks is an entrepreneurial venture that requires a strategic approach. Your ability to generate leads and close deals is just as crucial as your knowledge of the technology itself. Let's explore how to develop a sales strategy, price your SIP trunks effectively, and market your services to maximize your success.
Developing a Sales Strategy
The first step to selling SIP trunks is understanding your target audience. As established earlier, businesses of all sizes can benefit from the affordability and flexibility of SIP trunks. However, various stakeholders within these businesses have different reasons to approve the purchase. Business owners and financial stakeholders might be more drawn to cost savings, while IT staff will appreciate the ease of use in managing users. Therefore, it is essential to tailor your sales pitch to address the unique needs of each stakeholder.
Moreover, a balanced approach is key to maximizing your returns. Focus on both recruitment and clientele. Building a large client base is beneficial but having other business owners as partners guarantees volume and provides security for your business.
Pricing Your SIP Trunks
Pricing your SIP trunks requires a balance of competitive rates and profitability. This is where partnering with a reliable provider like SIPTRUNK becomes advantageous. Our flexible rate plans enable you to offer competitive prices to your customers while maintaining a steady profit margin. Remember, your goal is to create a business model based on recurring monthly fees that grow over time.
Marketing Your SIP Trunks
Marketing your SIP trunk reselling business is crucial to letting people know about your services. A professional business website is a must. It forms the center of your marketing efforts and provides legitimacy to your business.
Search engine optimization (SEO) is also vital to ensure your website ranks highly in search engine results. This involves using relevant keywords and building credible links to your site.
Additionally, leveraging social media platforms can increase your visibility and help build long-term relationships with potential clients. However, focus on the networks that your target audience uses most. You can also participate in telephony forums online to increase awareness and conduct market research.
Lastly, establishing yourself as an industry expert can generate business. Share valuable insights and latest trends in SIP trunking to position yourself as a trusted resource in the industry.
In the next section, we'll delve into the importance of excellent customer service in the SIP reselling business. In a competitive market, top-notch customer service can be the differentiating factor that keeps your clients loyal.
Providing Excellent Customer Service
Importance of Customer Service in SIP Reselling
As an SIP reseller, your job doesn't end after the sale. It's crucial to ensure that your clients are happy with your services and products. The provision of excellent customer service is vital in the SIP reselling business. It's the key to retaining customers and ensuring they remain loyal to your business. This is particularly important given the competitive nature of the SIP market.
By providing top-notch customer service, you're not only safeguarding your business but also improving your reputation. Remember, a happy customer is likely to refer others to your service, while a disgruntled one could discourage potential clients.
Tips for Providing Top-Notch Customer Service
Listen to Your Customers
Active listening is a skill you need to master as an SIP reseller. It's important to understand your customers' needs and address their concerns. By actively listening, you can tailor your services to meet their unique needs, thereby improving customer satisfaction.
Personalize Your Services
Each customer has unique needs and preferences. Therefore, it's important to personalize your services to meet these unique needs. Whether it's offering a unique set of features or flexible pricing, personalization can go a long way in improving customer experience.
Offer a Reliable and High-Quality Product
Your customers expect a reliable and high-quality SIP service. It's important to partner with a reliable and high-quality SIP provider like SIPTRUNK to ensure you meet these expectations.
Provide Timely and Effective Support
Technical issues are inevitable in the SIP trunking business. How you handle such issues can make or break your business. It's important to offer timely and effective support to your customers when they encounter issues.
Offer Training and Education
Most customers are not familiar with the technical aspects of SIP trunking. Offering training and education can help them understand and use the service effectively. This not only improves customer satisfaction but also reduces the number of support requests.
In conclusion, providing excellent customer service is not an option but a necessity in the SIP reselling business. It's the key to retaining customers, improving your reputation, and ultimately, growing your business. At SIPTRUNK, we understand this and that's why we are committed to providing our resellers with the support they need to offer excellent customer service.
Conclusion
The Potential of Becoming a Successful SIP Reseller
In a world where technology drives communication, the potential for success in becoming a SIP reseller is immensely promising. As the PSTN is nearing its end, the adoption of SIP trunks continues to grow at a rapid pace. This shift, coupled with the increasing demand for cost-effective and flexible communication solutions, presents an excellent opportunity for telco agents, dealers, and IT consultants who are looking to expand their businesses and secure a predictable, recurring revenue stream.
SIP trunking offers numerous advantages, including the ability to deliver significant cost savings and improved communication capabilities to customers. By reselling SIP trunks, you can tap into these benefits and establish a sustainable business model. Through value-added features and services such as inbound-toll free service, international long distance, Direct Inward Dial (DID) numbers, Fax over IP, FAX to eMail, and e911, you can increase your profitability and enhance customer satisfaction.
Final Thoughts on Thriving as a SIP Reseller
Becoming a successful SIP reseller requires more than just a deep understanding of SIP trunking and its benefits. It involves identifying your target audience, understanding your market, partnering with a reliable SIP provider, and providing excellent customer service. At SIPTRUNK, we provide our partners with all the necessary support and tools to ensure their success in the SIP reselling business.
Remember, your success as a SIP reseller is not solely determined by the number of SIP trunks you sell, but more importantly, by the value you bring to your customers. By offering high-quality, reliable, and affordable SIP trunking services, you can build trust, foster long-term relationships, and ultimately, grow your business.
As the world of telecommunications continues to evolve, so does the opportunity for growth and success as a SIP reseller. With the right approach, resources, and partner, you can thrive in this fast-growing industry. Start your journey with SIPTRUNK today and unlock the immense potential of becoming a successful SIP reseller.